Did you know that Execon offers services and creates products using #artificial intelligence, #machinelearning?
Do you want to improve the conversion rate of your website?
Try out our innovative AI solutions for e-commerce platforms.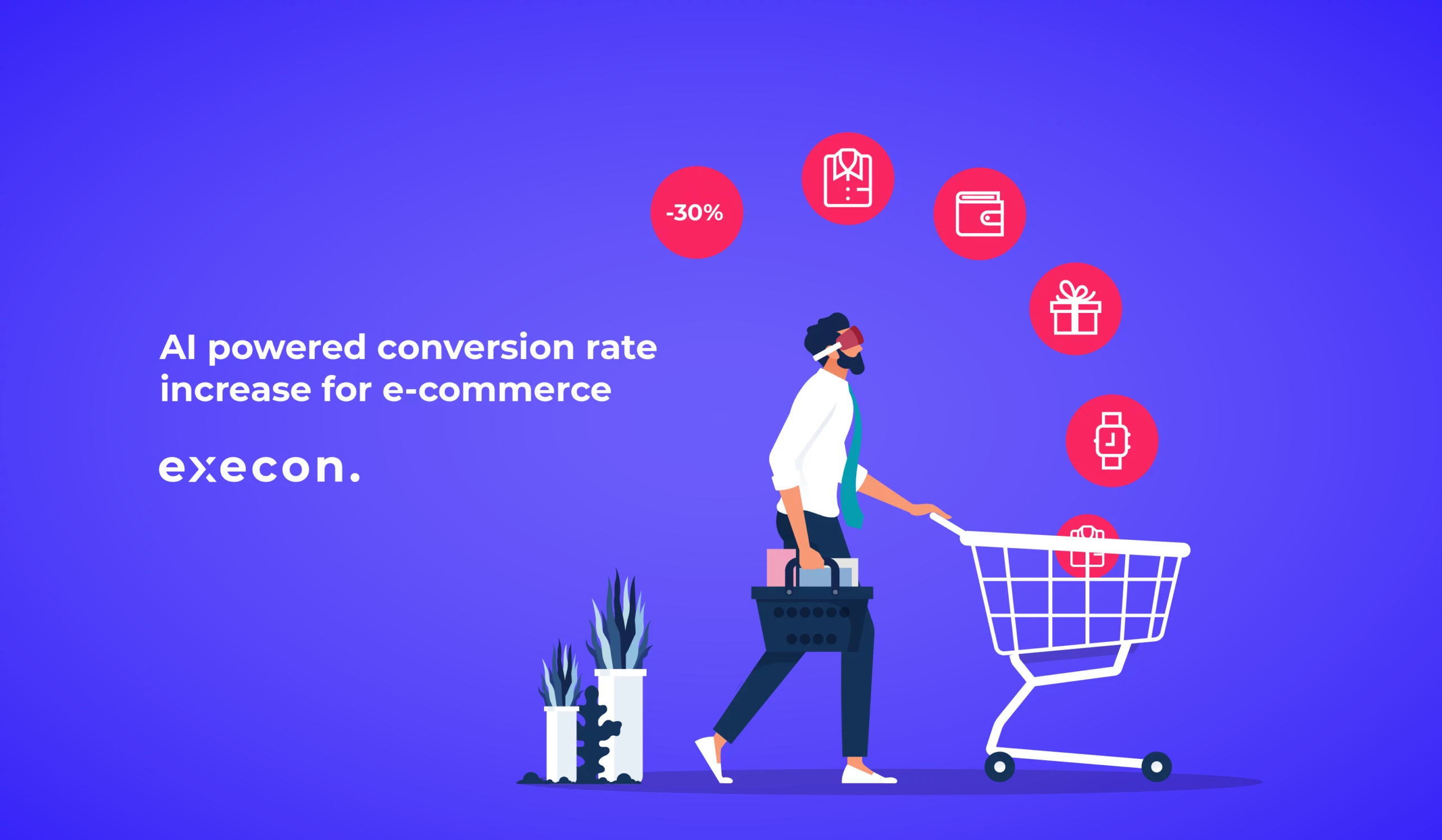 We have developed advanced AI algorithms that can determine a consumer's "willingness to pay" during a session. The solution enables responsiveness and increased conversions through personalised dialogue and customisation of the one2one offer, such as dynamic pricing, displaying a discount coupon code pop-up valid for a few minutes or pop-under.
We have established a set of relevant 'endogenous characteristics' based on e-commerce shopping behaviour and calculated the consumer's "willingness to pay" in real time.
We analysed various events that occurred during a session and identified those that were associated with conversion rates. For instance, sorting products by price, adding products to a wish list, the user's device type, font size used on the portal, cart abandonment, cart modification, click-through rate, speed of clicks, current demand for products, and many others what can influence the willingness to buy.
In addition, by linking 'endogenous characteristics' to purchase history, it is possible to create a holistic consumer profile and tailor real-time communications.
Conversion rate optimization is an incredibly complex subject.
Here are a few tips that can help you to improve your conversion rate:
Use Artificial Intelligence to improve customer loyalty and boost website revenue.
Apply a customer centricity approach by the holistic view of the consumers.
Deliver relevant and personalized content, offers and experiences to users.
Track customer journeys, conduct A/B and multivariate tests to determine the optimal website design, such as font colour/size of a pricing product.
Keep an eye on must-have KPI's on the website:

OCR (Order Conversion Rate)
AOV (Average Order Value)
CCR (Cart Completion Rate)
CAR (Cart Abandonment Rate).

Develop high-converting funnel what will guide the customer up the product ladder.
Provide a variety of e-commerce payment methods, including BNPL.
Optimize your mobile campaigns for better results.
Measure and review regularly the impact of modifications using data such as heat maps.
What else would you like to add?
Please do not hesitate to contact us!
Try out our solutions and increase your conversion rate!
#execon #datamonetization #AI #personalization #ecommerce #conversionrate