Czy wiesz, że Execon
świadczy usługi oraz buduje i rozwija produkty w oparciu o #sztucznainteligencja, #AI, #uczeniemaszynowe?
#ChatGPT spowodował ogromne zainteresowanie tematami dotyczącymi AI, natomiast my realizujemy bardzo ciekawe i pełne wyzwań projekty z zakresu sztucznej inteligencji oraz świadczymy usługi z zakresu monetyzacji danych oraz data driven marketing.
Poznaj nasze inicjatywy z zakresu #AI i #datamonetization:
#AbeeCloud EventCollector – rozwiązanie Abee Cloud Event Collector to szybkie do wdrożenia narzędzie umożliwiające zbieranie informacji o zachowaniach konsumentów na witrynie internetowej. Generyczny model danych – Customer e-commerce DataMart opisuje szczegółowe informacje: lokalizacja, mobilność, zawartość koszyka zakupionego, zawartość koszyka porzuconego, pozycje usunięte z koszyka przed dokonaniem transakcji, lista życzeń oraz wiele innych z zadaną częstotliwością (real-time, dzinnie, tygodniowo, miesięcznie). Świadczymy usługi w zakresie budowy customowych modeli AI – dedykowane modele segmentacyjne oraz personalizacja i roadmapa działań (kampanie eventowe).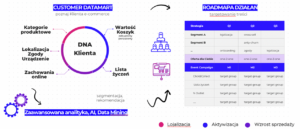 #MeetTheCustomer #DataMonetization – Przenikanie się zachować konsumentów w świecie online i offline stanowić może coraz większe wyzwanie w zrozumieniu preferencji zakupowych i lepszym przewidywaniu potrzeb konsumentów. Dane odgrywają tutaj kluczową rolę. Decydujące jest zebranie danych ze wszystkich obszarów działalności w jednym, scentralizowanym miejscu. Z najnowszych badań wynika, że strategia Unified Commerce pomaga przedsiębiorstwom z sektora handlu detalicznego wzmacniać interakcję z Klientem, zapewniając lepsze doświadczenie zakupowe, na pierwszym miejscu stawiając wygodę klienta w procesie zakupowym. Obejmuje to dane zebrane m.in. z systemów PoS, informacje o wybieranych metodach płatności, preferencje dot. kanałów kontaktu z marką czy zapisy do programów lojalnościowych. Analiza danych to jedno z kluczowych działań detalistów w celu poprawy wydajności, zwiększenia współczynnika konwersji i wzrostu sprzedaży. Badanie Adyen Retail Report 2022 wskazuje, że aż 55% klientów pragnie, żeby sprzedawcy wykorzystywali technologię w celu przygotowania produktów z internetowej listy życzeń klienta, do przymierzenia w sklepie. Co więcej, 60% chce, by sprzedawca oferował możliwość wysłania produktu, którego brakuje podczas wizyty w fizycznym sklepie, do domu klienta. 44% konsumentów chciałoby, aby to sprzedawcy zapamiętywali ich preferencje i historię zachowań. Ma to pomagać tworzyć bardziej sprofilowane doświadczenie zakupowe. Z drugiej strony, jedynie 23% detalistów wykorzystuje dane o płatnościach do zrozumienia tego, jak i kiedy kupują ich konsumenci.
Execon oferuje usługi wsparcia w budowaniu przewagi konkurencyjnej w tym obszarze, pomagając efektywnie wejść w świat cyfryzacji oraz budować inteligentny, spersonalizowany dialog z klientem poprzez wydobytą wiedzę z danych. Execon to doświadczony zespół ekspertów i konsultantów z obszaru Data Driven Marketing/ Data Strategy oraz Data Scientist specjalizujący się w dostarczaniu skutecznych rozwiązań analitycznych wykorzystujących Artificial Intelligence/ Machine Learning w celu zrozumienia preferencji i potrzeb konsumentów.

#Segmentation #Personalization #Hiperpersonalization – budujemy efektywne segmentacje dopasowane do potrzeb naszych Klientów, wykorzystywane do budowy przewagi konkurencyjnej, zwiększania sprzedaży oraz lojalizacji i przywiązania konsumentów.
Segmentacja behawioralna konsumentów online na podstawie precyzyjnie zbieranych danych z witryny internetowej
Segmentacja koszykowa offline danych paragonowych pochodzących z sieci sklepów stacjonarnych
Segmentacja behawioralna konsumentów offline odwiedzających sieć sklepów stacjonarnych
Segmentacja sklepów stacjonarnych na podstawie segmentacji koszykowej offline danych paragonowych
Segmentacja behawioralna klubowiczów na podstawie danych z programu lojalnościowego, zachowań zakupowych online na platformie e-commerce oraz zachowań zakupowych offline w sklepach stacjonarnych
Personlizacja i Hiperpersonalizacja – dopasowanie w real-time witryny internetowej do preferencji i potrzeb konsumenta na podstawie historii e-zachowań np. informacja o zawartości porzuconego koszyka zapisywana; przy kolejnej wizycie spersonalizowany CTA na produkt/usługę z porzuconego koszyka -> np. KUP/RABAT lub przypomnienie "DOKOŃCZ ZAKUPY" lub  w zależności od stanów magazynowych zarządzanie spersonalizowanymi ofertami dla Klientów oglądających OFFER POOL – hit produkty – akcja "wietrzenie magazynów"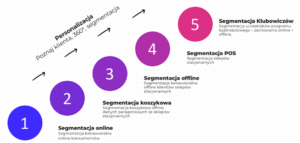 #AbeeCloud TST – najbardziej złożone testy A/B w Polsce. Kompletne alternatywne ścieżki sprzedażowe – od prezentacji produktów, przez koszyk, dane osobowe i dostawy, aż do strony podziękowania za zamówienie. Dzięki rozwiązaniu Abee Cloud w łatwy i szybki sposób można przetestować różne warianty serwisu internetowego, wskazując rozwiązania najlepiej spełniające założone cele biznesowe. Szybkie do wdrożenia i intuicyjne w obsłudze narzędzie. Nie wymaga angażowania IT po stronie e-commerce – wystarczy wpięcie w stronę dostarczonego skryptu js. Elastyczny model rozliczeń (oparty na opłatach abonamentowych).